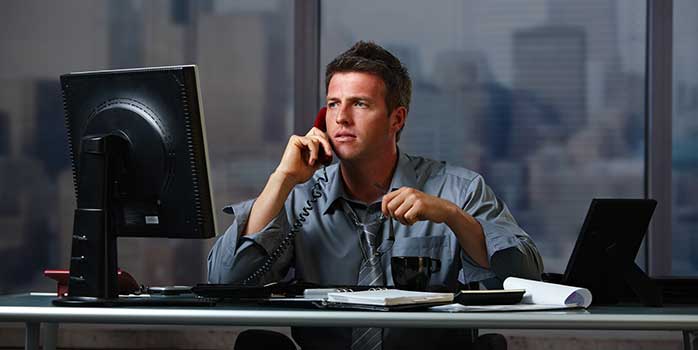 June 17, 2019
Hosted PBX Phone Systems edge-out Competitors across Australia
Hosted PBX Phone Systems can edge-out competitors in Australia. From Start-Up to Enterprise and all businesses in between, cloud-based business phone systems with VoIP is driving business performance across the nation.
The shift to cloud phone systems and VoIP is delivering unprecedented flexibility and agility across business disciplines. Likewise, organisations are gaining a competitive edge through the inherent capabilities of a Hosted PBX; as they reap the rewards of increased mobility and collaboration throughout.
Furthermore, cloud phone system applications that ultilise Microsoft 'Teams' are creating new dimensions as to the capabilities of business phone systems.
The increasing popularity of these cloud phone systems is changing the way we do business; as they introduce cost-efficient Unified Communications (UC) ie; voice, Instant Messaging (IM), video & audio conferencing, file sharing etc; as well as increasing efficiencies through integration with MS Outlook; MS Dynamics CRM and Salesforce CRM. Likewise, the enhanced functionality, reporting and support services across the cloud application and telecommunications adds operational transparency.
Aside from the lure of cost-efficiencies and an Opex business model, Hosted PBX phone systems come with the flexibility of VoIP and functions such as; Inbound Call Management with ACD & IVR functions; Call Forwarding & Routing; Mobility across handsets and smart devices; Virtual Reception/Auto Attendant; Conferencing; Call Recording and more. re readily available as either standard or enhanced features. In addition, Unified Communications (UC) via a Hosted PBX is increasingly in demand throughout Australia.
The appetite for Hosted PBX phone systems in Australia is on a steep trajectory, and why wouldn't it? Not only can a Hosted PBX improve performance, the flexibility, scalability and continuous software upgrades is a real winner amongst business leaders, as collectively these attributes future-proof businesses in a world of constant  change. Above all, cloud-based phone systems enable business leaders to no longer look into a crystal ball to predict future business requirements for telephony; nor is there a need to wear the brunt of expensive upgrades; as is the case with a traditional PBX phone systems.
When it comes to ICT, Smartcom talks business.
Contact Us Today:
Glossary:
ACD: (Automated Call Distribution) ACD is telephony functionality that answers, manages and distributes incoming calls to staff in an office or call centre.
Auto Attendant: an Auto Attendant (or Virtual Receptionist) allows callers to be transferred to an extension without the intervention of a receptionist via an option menu ie; press 1 for sales, press 2 for accounts etc.
Cloud PBX: see Hosted PBX.
DTMF: (Dual Tone Multi-Frequency) DTMF refer to the different tones made by your phone when ringing a phone number.
Hosted PBX: (Hosted Private Branch Exchange) is an IP-based telephony solution provisioned and accessed via the Internet. Hosted PBX is also often referred to as a Cloud PBX or VoIP PBX.
IVR: (Interactive Voice Response) IVR is a technology that allows a computer to interact with humans through the use of speech recognition and DTMF input via a keypad. An IVR differs from an Auto Attendant in that it takes input and upon processing it, it returns an outcome; whereas an Auto Attendant routes calls.
PBX: (Public Branch Exchange) – a term used for a Phone System.
Microsoft Teams: Microsoft Teams is enterprise software that provides Unified Communications (UC) such as; Voice, Instant Messaging (IM) and video & audio conferencing.
Unified Communications: (UC) describes the integration of communication services such as; VoIP,  instant messaging (chat), presence, audio, web & video conferencing, fixed-mobile convergence (FMC), desktop sharing, data sharing, speech recognition,  voicemail, e-mail, SMS and fax.
Virtual Receptionist: see Auto Attendant
VoIP: (Voice over Internet Protocol) – phone calls made over an internet connection, as against traditional phone lines.