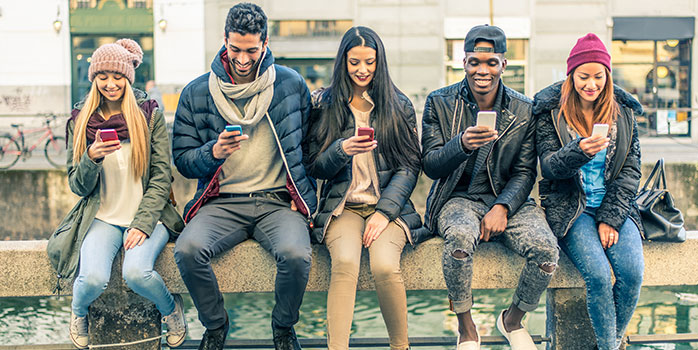 September 12, 2018
Cloud Business Phone Systems Automate the Modern Office
Cloud Business Phone Systems Automate the Modern Office. The challenge ahead for any business, is to be agile. To have the nimbleness to quickly adapt to market conditions, and equally, to be in a position to exploit opportunities in the marketplace. Agility nonetheless, requires sufficient, on-demand technological resources. In today's face-paced marketplace, its business-critical for good strategy to be accompanied with highly flexible, scalable and automated technology. Moreover, to respond to the marketplace with potency, technology needs to provide organisations with increased capability, and for strategies to have continuous cut-through.
The good news for business of all sizes, is that the barriers of entry to acquire sophisticated Business Phone Systems of has diminished significantly in recent years. Various Cloud Business Phone Systems that incorporate VoIP (Voice over Internet Protocol); SIP (Session Initiated Protocol); OmniChannel Communications; Artificial Intelligence (AI) etc, can now be easily accessed with immediacy, and with opex price models.''
This new communications paradigm presents organisations with the ability to interact with customers like never before. Organisations can now communicate across multiple channels with Cloud Business Phone Systems, and in the fashion that is mutually accepted by both parties as a preferred method for the task at hand. The advent of Cloud Business Phone Systems, SIP and AI machine learning technology has produced a quantum shift in technology use, and in particular from the 'one size, fits all' generation of the past.
Not so long ago, transformation of this magnitude was an arduous task for many organisations; requiring considerable change management expertise in order to mitigate against inherent risk and operational disruption. Albeit meticulous project management is always a recommendation, Cloud Business Phone Systems applications and the extraordinary capabilities of SIP, VoIP and AI can be introduced to operations as either an incremental transition, or a complete swap-out with no, or limited disruption.
Even more good news, with cloud, SIP and AI technology readily available for any size business –  having  easy access to cloud SaaS (Software as Service), and hence able to exploit the on-demand capabilities of services such as; Hosted PBX, CCaaS (Contact Centre as a Service) and Virtual Workplace.
Large or small-scale operations can benefit from office automation. Non-productive, and often  laborious tasks such as; Accounts Receivable; Lead Generation Response; Caller Verification,  Sales Enquiry Qualification & Management, Direct Sales; Notifications & Alerts; Cross-Selling; Contact Data Management etc, can be either fully or partially automated to drive business performance.
Office Automation has a fourfold effect; 1) it provides a highly efficient means of completing tasks either without, or with limited human intervention; 2) a more productive workforce is able to focus on achieving the business objectives; 3) Freed from menial tasks, your workforce can be deployed to more challenging, rewarding and pressing duties that will be a better experience for both your staff and customers; and 4) increased productivity will ultimately produce more revenue with better cashflow.
For instance, Cloud Business Phone Systems often come with an Auto Attendant (Virtual Receptionist) with customised on-hold messaging can automate greeting clients – providing both reliability and professionalism. Likewise, callers responding to prompts (ie; Push 1 for Sales), can be efficiently directed to the right people within an organisation – first time. Further, reduce your Debtor Day KPI with automated payments via the web, and an IVR can be used for phone payments. An IVR can also be effective for validating callers and for call-routing purposes – in particular when used in combination with 1300 Numbers. Likewise, 1300 Numbers and VoIP can give a business an immediate national footprint. Unified Communications such as Voice Broadcasting and SMS can also be applied across many business applications, replacing tedious tasks previously performed by staff, such as; Payment Reminders; Appointment Confirmations & Reminders; and Alerts, to name a few.
Likewise, if you have a call centre, or about to implement one, CCaaS can provide any business with the capabilities of a large-scale operation. Functions such as ACD, IVR & ASR Inbound Call Management, is an efficient means of managing inbound VoIP traffic. In addition, the predictive dialler function, VoIP and Omni-Channel Communications gives business the capacity to have a dialog with clients across multiple communication channels, such as; VoIP, SMS, Email, Web-Chat and SMS-Chat.
Above all, the new communications paradigm gives businesses the capability to expand their business models and scale-up operations in parallel with growth. Without adopting suitable cloud applications, VoIP and AI to automate a business, some organisations may find their competitors are exploiting opportunities ahead of them. Moreover, organisations utilising the capabilities of Cloud Business Phone Systems, VoIP and AI, are better equipped to automate and hence scale their businesses; and invariably able to better cope with the dynamics of an ever changing landscape; and thereby take their organisations on a journey of high-performance; and ultimately develop a deeper understanding and relationship with their clients.
Drive the performance of your business into the new communications paradigm. Contact Smartcom Business Communications today; 1300 196 386 or contact us.
Contact Us Today:
BLOG – Good Reading:
ISDN to SIP VoIP is all good news for Business.
Cloud & SIP technology set to Change the Way Business is Done.