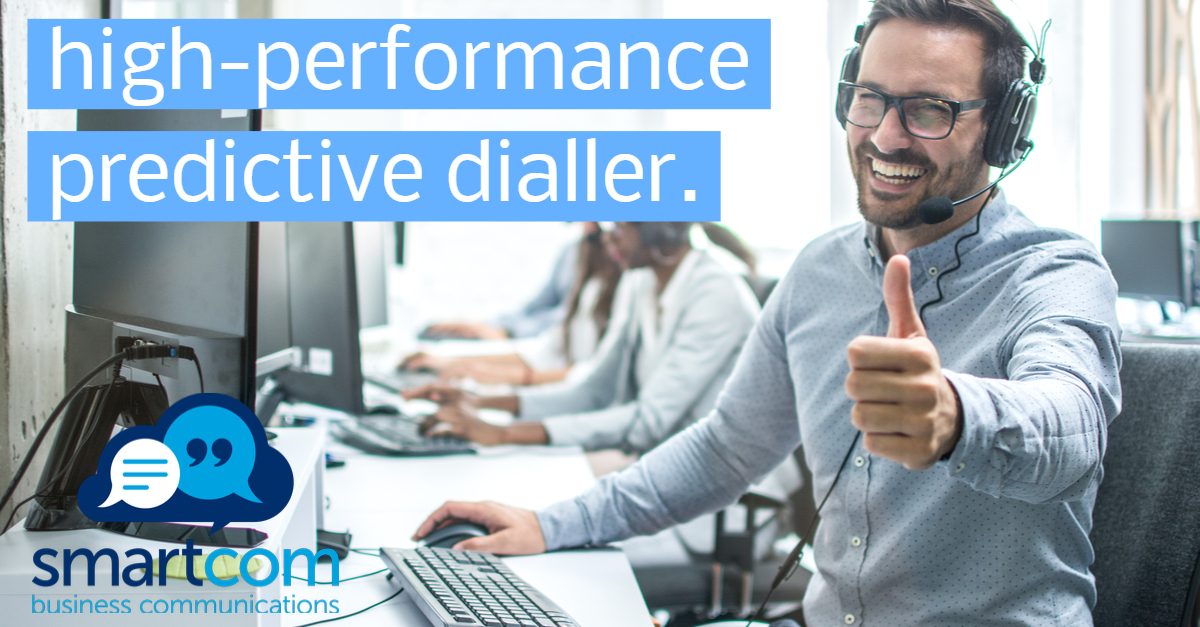 What is the Value of a Predictive Dialler?
The term 'predictive dialer' is widely used as a generic term for a cloud call centre dialler in Australia – meaning predictive dialers will often differ from each other.  Furthermore, the term encompasses a range of cloud dialer applications in a Cloud Contact Centre environment, that are essentially differentiated by; 1) dialling modes, 2) back-end architecture and 3) integration with business software such as CRM's. 
In short, cloud predictive dialer technology is telephony software that automatically dials numbers from a contact list that has been loaded into the dialler; with calls answered, passed through to an available agent.
Cloud predictive dialer technology does more than just make call phone numbers from a list. Moreover, it detects connected calls, in addition to vetting non-productive calls such as; voicemails and answering machines. see predictive dialler plans
Dialler Types & How to Rank their Importance
Ranking the different types of predictive dialer in Australia, essentially comes down to what is the best 'fit' for your business. Diallers with only predictive or preview modes, tend to have operational limitations. 'Preview' being  marginally better than manual dialling, and 'predictive' mode requiring an economy of scale to be effective. see predictive dialler plans
Different call centre diallers typically have dialling modes such as; 
'Click to Call' – either as a stand alone feature or included as an additional dialling function

Predictive dialling mode only

Predictive & Preview dialling modes only

Preview, Predictive plus either one of the following; Power/Progressive/Pre-Emptive
At the top end, their are diallers that have the dialling modes of point 4, in addition to having fully blended inbound & outbound capability – whereby incoming calls can be prioritised during outbound dialler campaigns, with the assumption that an inbound call is a priority for the business.
Preview Dialling Mode & 'Click to Dial'
'Click to Dial' is an efficient means of phoning customers from either a CRM or cloud dialler software screen. Agents simply click-on phone numbers from their screen to make a call. 'Click to Dial' and Preview mode are particularly useful to review customer account information prior to making a call – ie; skip tracing for collection agencies.
Predictive Dialling Mode
The predictive dialling mode uses an algorithm that 'predicts' the availability of agents, and therefore recommended for call centres with 10+ agents. 
Moreover, predictive dialling can have a dramatic effect on improving productivity; as a result of vetting all non-productive calls. For Instance; voice mail; answering machines, busy, disconnected numbers and no answers. (As call vetting is a back-end function, agents deal only with connected calls). see predictive dialler plans
Power / Pre-Emptive Dialler Mode
Power mode suits call centres with less than ten outbound agents. Rather than the cloud dialler algorithm determining the availability of the next agent; agents themselves instruct the dialler that they are ready to take another call. 
Progressive Dialling Mode
Progressive mode is best used in call centre environments when after-call administration is consistently the same. In these environments, the call centre manager can determine the time needed for agents to complete paperwork after calls. At this point, a new call will pop-up in the agent screen.
Back-End Architecture
All things considered, not all cloud diallers are as smart as each other, nor are they as scalable or flexible as each other, or have the same features.
So how do business leaders decide on what predictive dialer is the best for their organisation? Well, it's evident that there are three key aspects to consider; 1) the Number of Agents; 2) the type of business application/s ie; appointment setting, debt collection, cross-selling to customers etc. and 3) Data management & CRM integration. see predictive dialler plans
What is the Right Predictive Dialler for your Business
By and large, the type of cloud predictive dialer required for your operation gives meaning to;  1) your business sector, 2) the size of your call centre, 3) contact data management such as CRM integration, and 4) the degree of operational flexibility and scalability required. 
In other words, the decision-making criteria should focus on the business rules driving the technology requirements, to ensure that the cloud dialler has the capacity to manage the ebbs and flows of the day-to-day call centre operation; and that when introduced to the organisation, that the predictive dialer has real meaning. see predictive dialler plans
Business Applications for Predictive Dialers
Customer Acquisition
Cloud call centre predictive dialler software in Australia is widely used for outbound activities such as; Lead Generation, Appointment Setting, Direct Sales, Research, Telemarketing, Debt Collection and Fundraising.
Customer Retention
In an increasingly competitive landscape, cloud predictive dialer software is proving to be a highly efficient tool to keep close contact with your customers in Australia.
Moreover, predictive dialler software is widely used to secure customers; using tactical client retention campaigns such as; Customer Service; Renewals, Subscriptions, SLA Management, Overdue Accounts and the likes. see predictive dialler plans
Contact Us Today.